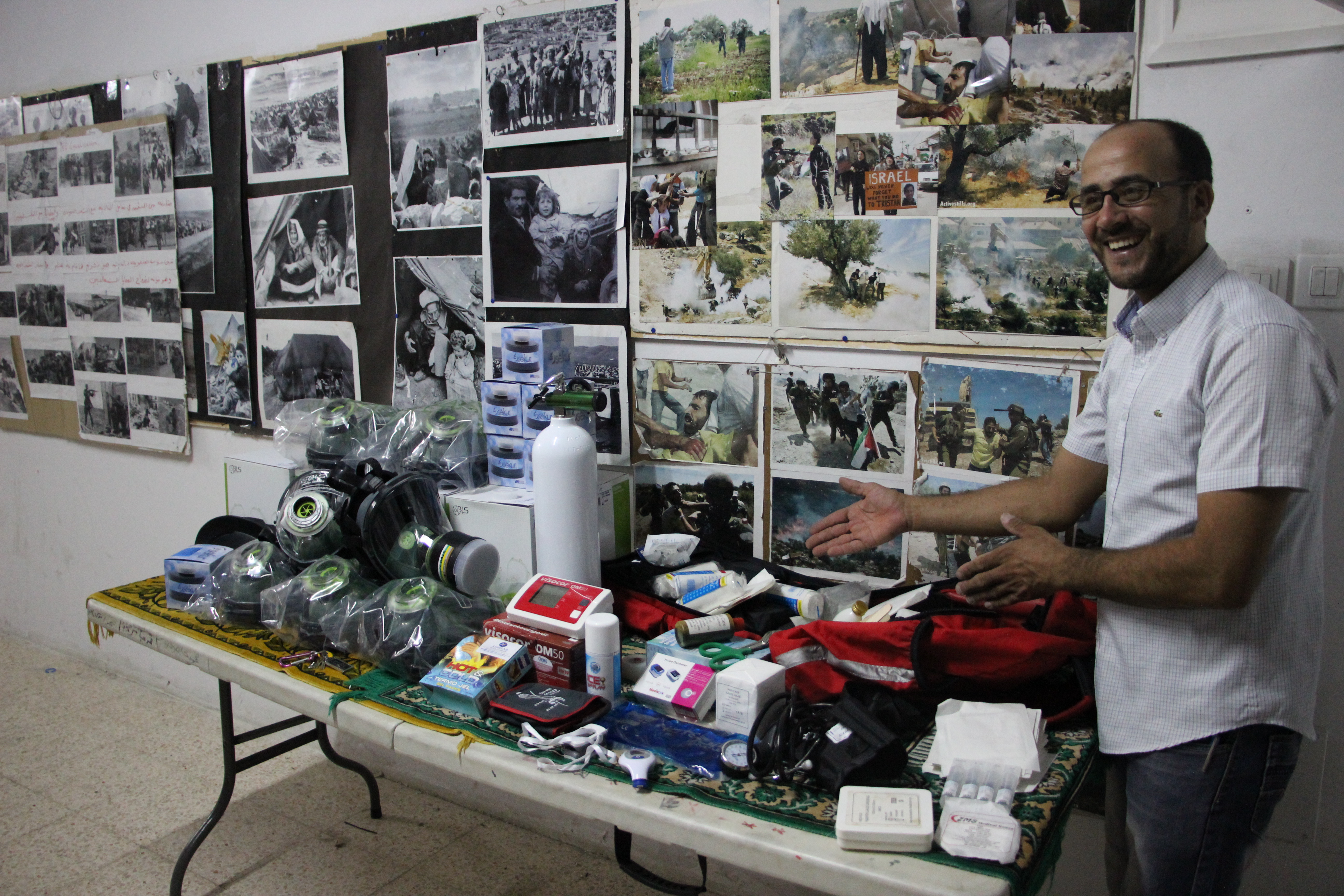 During the last few months Israeli soldiers have been targeting our homes with hundreds of tear gas grenades fired by military jeeps. As a result, dozens of families suffered from suffocation, including young kids and elderly inside their homes. These grenades caused 3 houses in the southern of the village to catch fire. The targeting of homes is made deliberately in order to create a feeling of indignation towards the protesters from the families affected in that area and to spread division among people which may result in families' fights.
Luckily, since the beginning of our struggle against the apartheid wall the people of Ni'lin understood that the bullet of the occupation forces make no difference between us, weather someone is from Hamas or Fatah, children or adult. We are all an enemy in the eye of our occupier. This has strengthened the base of solidarity among people in the village like never before, and is one of the reason why our protest is still going on for the 7th year so far.
On May 20th, 2015 we made an urgent appeal asking for 550 Euros in order to buy 5 gas masks and a small first aid kit. Often, the soldiers have blocked the entrance of the village preventing the ambulance from reaching us to provide injured with first aid care. However and with great joy, we have received 1700 Euros which enabled us to buy 13 gas masks and a bigger first aid kit with more equipment.
On August 3rd, 2015, after a month of waiting, we finally received all the materials: 13 gas masks with their filters and oxygen jar, a blood pressure monitor, a pulse oximeter, medical gel, medical ice spray (for bruises and injuries cause by rubber bullets), gauze, sanitizers and wound care dressings to prevent infections.
We also bought 4 walkie talkies in order to communicate between the teams in the field as Israeli soldiers have recently brought a machine cutting the service from our phones making it difficult for us to communicate.
We are very happy and grateful for this great support which will enable us to rescue our families at home, to protect our olive trees, fields and treating our injured people on the ground if there is no ambulance available to drive them to the hospital.
Our people, especially the farmers' families living in the south of the village in the front line, thank every person and group which have supported us to have this much-needed equipment.
On behalf of our community, I would like to give special thanks to Annette and Phil for organizing the appeal and for creating a special platform to receive your donations.
Our thankful thoughts go as well to Glasgow Palestine human rights campaign, Evry Palestine in France, Café Palestine in Bonn (Germany), and each of you who made this happened through donations from Norway, Canada, UK and France.
Thank you for your great and continuous support to our struggle for freedom, justice and peace!