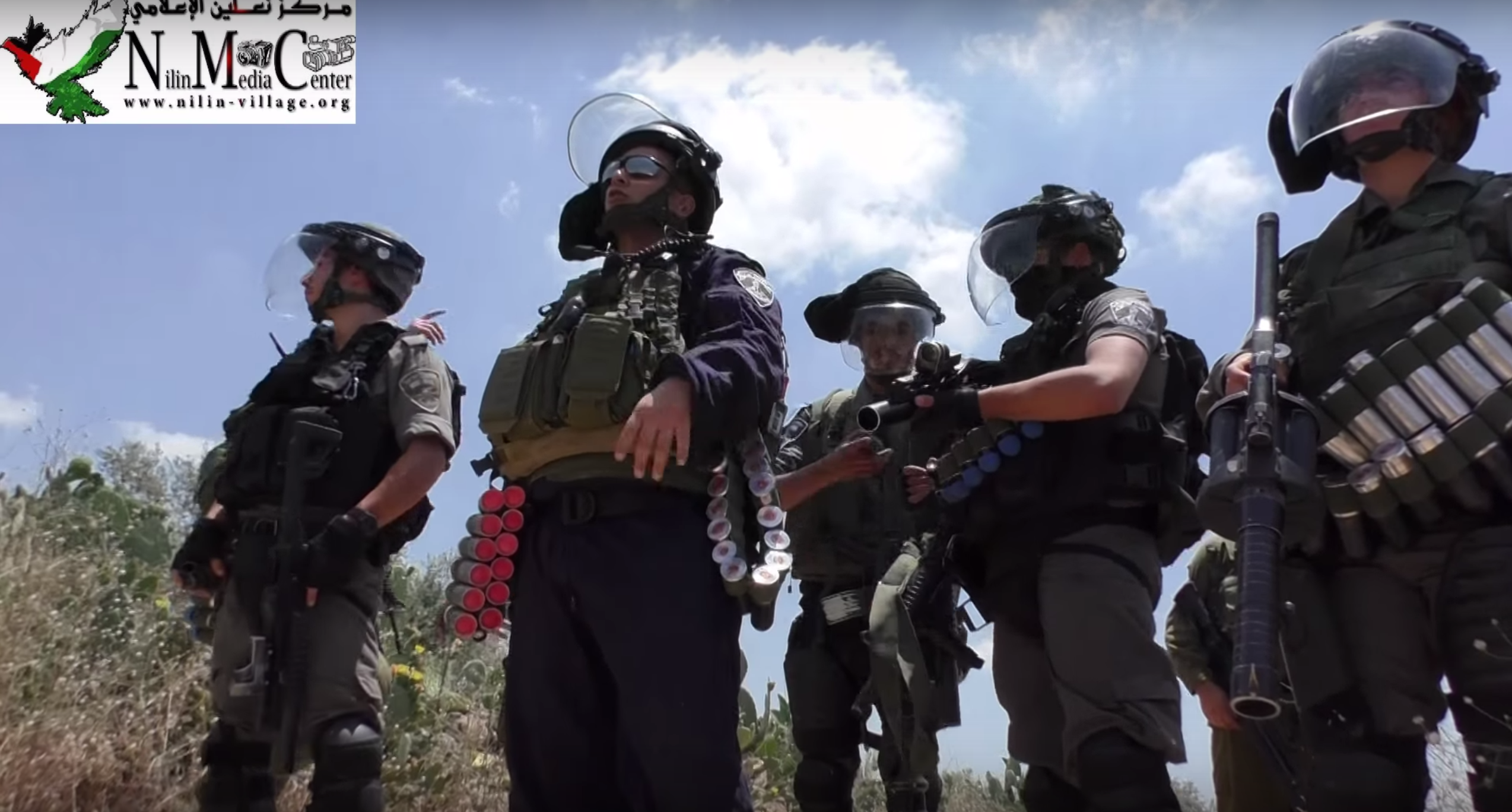 This Friday, as the people of Ni'lin were gathering in the olive fields for the weekly protest against the apartheid wall, Israeli soldiers in jeeps arrived at the scene even before the prayer was over. The soldiers attacked several protesters and proclaimed to the non-violent demonstration that they had five minutes to disperse. The prayer continued under the olive trees in spite of the harassment and threats from the soldiers.
After the prayer, the demonstration gathered and started it's march towards the wall in protest against the continuous land theft and invasions perpetrated by the Israeli military in Ni'lin. As soon as the protest began and the first slogans were chanted the Israeli soldiers started raining tear gas and sound grenades over the demonstration in order to make it disperse.
Jeeps with cannons mounted on their roofs invaded the village from the south and attacked the demonstration and the houses with a non-stop barrage of tear gas. Dozens of protesters and families living in the south of the village suffered the effects of the gas.
As the protesters regrouped in order to keep marching towards the wall the soldiers started firing sponge grenades and rubber coated steel bullets directly at the demonstration. Four protesters were injured and received treatment by the Red Crescent team on site.
However not only the demonstration was a target for the Israeli soldiers. Many olive trees were burnt by scalding hot tear gas canisters catching fire in the dry grass during the clashes. As Palestinian firemen arrived to put out the fires they also came under the attack of Israeli soldiers. One of the firemen were hit in the head by a rubber coated steel bullet.
As the clashes were coming to a close, three Israeli soldiers gathered near the house of Salah Amireh and seemingly for no reason started to aim their guns at the windows in order to make tear gas canisters go through. After several attempts they succeeded and fired five grenades into the house. This resulted in the entire family suffering from tear gas inhalation, including a pregnant woman and an eight year old child. Luckily the Ni'lin First Aid volunteers arrived at the house quickly and managed to help the family. The volunteers cleared the house of burning pieces of cloth to prevent the fire to spread to the rest of the house.
Next week will be the 7th anniversary of nonviolent struggle against against the theft of Ni'lins land and the apartheid wall.
- The fight will enter its eighth year with strength and a determination to keep protecting the lands and families of the village." We hope the international community will put more pressure on Israel to end the occupation and the violations against human rights in the West Bank", says a representative of the Popular Committee of Ni'lin.